Ensure Your Networks Are Stable And Reliable.
The SynchroNet Field Engineering Team is highly skilled and vendor certified in commissioning, provisioning, and testing on a diverse array of telecommunications equipment.
Our Field Engineers verify equipment and cabling at both the site and system levels to ensure our customers' networks are stable and reliable.
Site verification testing includes power redundancy, equipment backplanes, circuit pack integrity, slot and chassis switching architectures, and cable terminations.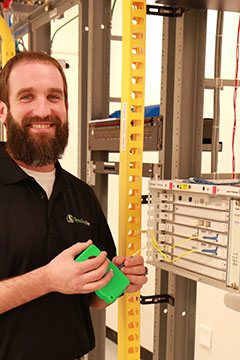 System verification testing includes optical terminations, system provisioning, port provisioning, and end to end circuit analysis. During system verification testing, our field engineers will also work with the customer NOC (Network Operations Control) to verify DCN (Data Connection Network) connectivity and all associated visibility to independent network elements for alarm verifications.
SynchroNet follows vendor specific testing parameters as well as any customer specific parameters to ensure the network is operating as designed.
Specific line rate testing is based on the network design and customer preferences.
Specialized services can be completed on a per customer basis, some offerings include:
Live fiber rolls
System DWDM Equalizations
Network unfolds
Network expansions
System overbuilds
System upgrades
Software upgrades
Circuit grooming for bandwidth optimization